Best SAT Test Prep Courses and Tutoring in Bangkok
For Bangkok students seeking admission to top universities, strong SAT scores are highly advisable. Manhattan Review has been providing high-quality SAT prep classes, private tutoring, and practice tests in cities around the world since 1999. The SAT is valued by college admissions committees because it is believed to be an assessment of academic ability that is independent of variations in the difficulty of high school curricula (the United States alone has approximately 38,000 high schools, including public schools under several different jurisdictions and private schools with their own standards). Critics of the test claim that it is culturally biased, and its value as an accurate predictor of success in college has been questioned, but these issues do not change the fact that the SAT remains an entrenched component of applications to most colleges. Manhattan Review's SAT prep classes, private tutoring, and practice tests will help you take full advantage of this situation. High SAT scores are attainable with the right preparation.
The effectiveness of Manhattan Review's SAT prep courses and private tutoring are backed by scholarly research. Independent studies conducted at Ohio State University and Oxford University showed that SAT prep classes were linked to average increases of 56-60 points on the 1600-point scale, which are significant. Score improvement from 1150 to 1220 matches a rise from the 72nd percentile of all test-takers to the 81st, and a 60-point increase from 1220 to 1280 would place that applicant in the 88th percentile. Many of Manhattan Review's SAT prep clients exceed these average numbers. Our students have been accepted into several top universities, including Harvard, Yale, Princeton, Stanford, and the University of Chicago. Former clients of Manhattan Review in Bangkok are now employees of Bangkok Bank, Dextra Manufacturing, Jet Asia Airways, and other prominent local firms. Some of our former Bangkok students now work for Fortune 500 companies in the United States, such as PepsiCo, UPS, Dow Chemical, and Energy Transfer Equity. Our test prep services have also helped get careers started in the public sector in fields ranging from education and research to politics and governmental administration.

Funny, made things clear and related things to real life. The SAT / ACT course was very helpful, I don't think I would've improved my reading skills without it. This course also gave me strategies to break down a reading. I got a feel for the SAT and had practice in areas I struggled in.
- Niaema Fox (This student took our SAT preparation course)
Bangkok
Primary Course Venue:

Sheraton Grande Sukhumvit
250 Sukhumvit Road
Bangkok 10110, Thailand

Phone: +66-6-0003-5529

NOTE: We do NOT typically have staff at the venue, so email us before visiting the venue.
Meet a Bangkok SAT Tutor: Carmen P.
Carmen P. was born in Tokyo, where her British father was an executive for a petroleum company and her Japanese mother was a professional cellist. Carmen completed an undergraduate degree in mathematics at Yale University. While at Yale, she volunteered as an SAT tutor for New York City's public schools, helping a number of students from disadvantaged backgrounds gain acceptance to universities around the United States. She also participated in various student productions of plays and musicals as an actress, set designer, and rehearsal pianist. After graduation, she took a job teaching math at a private high school in Connecticut, where she also coached the debate team and helped direct the drama club.
With several years of teaching under her belt, Carmen was ready for a new experience. She moved to Bangkok after being hired by a local company as a statistician, but wanted to keep teaching on the side. Manhattan Review in Bangkok, impressed by her credentials, hired her as an SAT tutor, and she has provided our clients with top-notch service since 2012. "I was in pretty good shape on verbal, but I struggled with the math," said one student. "Carmen's experience as a math teacher brought up my scores significantly in that area, but her well-rounded life experience also benefited my verbal performance." In her spare time, Carmen directs an amateur theatre troupe that specializes in comedic skits with cross-cultural characteristics. She also enjoys volleyball, running, and hiking.
Our Books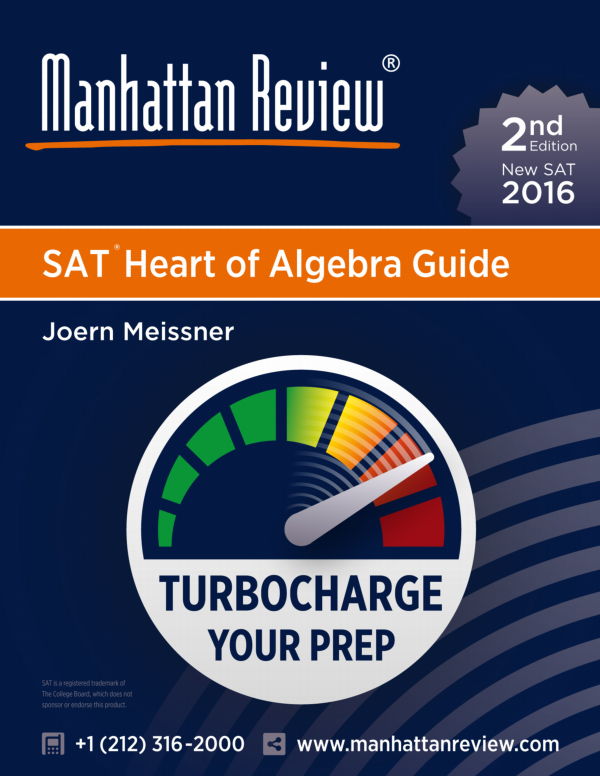 As Seen In