Best GMAT Test Prep Courses in Bangkok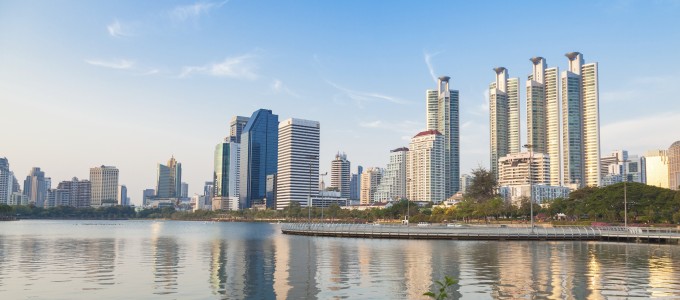 The Graduate Management Admission Test (GMAT) is used by admissions committees at universities around the world to evaluate candidates for admission to graduate business programs. The GMAT screens applicants through its assessment of selected general skills and the ability to make decisions under time constraints. Though business knowledge is not a component of the test, most business schools consider GMAT scores to be a valuable objective indicator of graduate student potential, and they are also a significant factor in school rankings. Manhattan Review's GMAT prep courses, available on-site in Bangkok and online, will maximize your scores in each of the GMAT's areas (quantitative, verbal, integrated reasoning, and analytical writing). Our GMAT prep classes have been developed through state-of-the-art research and many years of experience teaching prospective business students from every imaginable background.
Approximately 250,000 people take the GMAT each year at over 600 testing centers in more than 100 countries. Scores range from 200 to 800, and according to the Graduate Management Admission Council (the organization that administers the test), the average score is 540. Rankings of business schools in the United States, however, show that admitted students generally exceed this average by a wide margin. Though it is true that many institutions do not have set minimum score requirements with respect to the GMAT, there is a strong correlation between above-average GMAT scores and admission to elite business programs. Manhattan Review's GMAT prep courses and private tutoring have helped our Bangkok clients get accepted into Stanford Business School (where the typical student scored a 740), Harvard Business School (730), the University of Virginia's Darden School of Business (710), and Tulane University's Freeman School of Business (640). We've also provided GMAT prep for students in Bangkok who have entered business programs in other countries, such as the London School of Economics and Bangkok's own Chulalongkorn University Sasin Graduate Institute of Business Administration, where admitted students usually score in the upper 600s.
Manhattan Review's GMAT clients in Bangkok have been successful in their business careers around the world. Our graduates work for Fortune 500 companies such as Berkshire Hathaway, Kroger, and Costco, in addition to Bangkok firms Italthai Industrial Group, Muang Thai Life Assurance, Thai Regional Airlines, and many others. Former Manhattan Review GMAT students now serve as corporate executives, independent business owners, consultants, traders, and in virtually every other relevant field. Whether you're a mid-career professional or a recent graduate, Manhattan Review can help you get to the top.

Since I took the GMAT preparation course with you approx. six months ago, I wanted to inform you that I got accepted at Kellogg and would like to thank you for your support.
- Fabian (This student took our Munich GMAT weekend course)
Bangkok
Primary Course Venue:

Sheraton Grande Sukhumvit
250 Sukhumvit Road
Bangkok 10110, Thailand

Phone: +66-6-0003-5529

NOTE: We do NOT typically have staff at the venue, so email us before visiting the venue.
Meet a Bangkok GMAT Tutor: John H.
John H., a native of North Carolina, is a graduate of the University of Southern California and Stanford Business School, where he completed an undergraduate degree in finance and an MBA respectively. He began tutoring while he was a graduate student, helping his clients improve their SAT and GMAT scores through his connection to various university outreach programs. Seeing a market in Southeast Asia for certain types of American food, he moved to Bangkok and started raising capital. He applied for a job with Manhattan Review's local branch, and we hired him based on his keen business sense, tutoring background, and excellent GMAT scores.
John's students appreciate the entrepreneurial spirit that he brings to his tutoring and draw inspiration from his business ideas. He plans to open his first restaurant in the near future, and considers his tutoring to be a great way to further his understanding of his customer base and pay his success forward by helping others thrive in their own business careers. John's business interests and tutoring keep him very busy, but he still finds the time to stay in shape with running, cycling, and hiking. He is also an avid sports fan, and follows the Carolina Panthers, Carolina Hurricanes, and Atlanta Braves.