Best TOEFL Test Prep Courses in Bangkok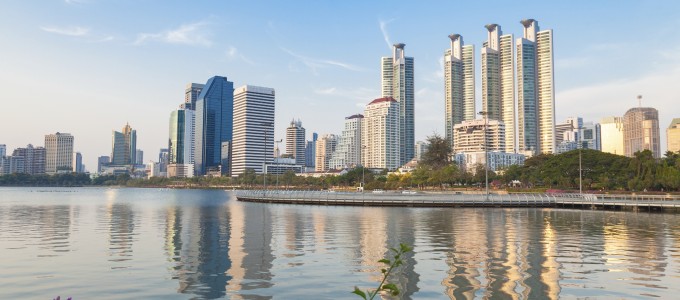 Non-English speaking applicants to universities in which the primary language of instruction is English will greatly improve their performance on the Test of English as a Foreign Language (TOEFL) with the help of Manhattan Review's TOEFL prep classes and private tutoring in Bangkok. The TOEFL is an evaluation of English skills that is specific to an academic environment, with reading, writing, listening and speaking sections that present the test-taker with material commonly found in college courses. Reading passages, for example, are excerpted from undergraduate textbooks, while listening items are presented in lecture format, with note-taking allowed. The TOEFL is more about a specific set of academic tasks than the ability to fluently converse in English. Manhattan Review's TOEFL prep courses, available both on-site in Bangkok and online, provide our students with highly efficient and effective preparation exercises and strategies that lead to success on this challenging but manageable test.
It is difficult to make general statements on the subject of minimum TOEFL score requirements. Some institutions have university-wide minimum levels, while others are set by individual departments or programs, which place various degrees of importance on the test or even on specific sections of the test. It is common for music programs, for instance, to be less concerned with TOEFL scores than English departments. Among universities that report TOEFL requirements irrespective of field, the minimum score varies widely. For admission into Harvard University, a score of 100 out of 120 is necessary, but 90 is good enough for the Massachusetts Institute of Technology. George Washington University requires an 80, but 61 is an acceptable level for Indiana State University. Manhattan Review's TOEFL prep courses and private tutoring can be customized for admission into specific target schools, ensuring that our students make the most of their time and effort.
A number of Bangkok's top companies are staffed with former Manhattan Review clients, who have graduated from such institutions as Duke University, New York University, Stanford University, and UCLA and now work for Thai President Foods, Siam Future Development, Asia Atlantic Airlines, Dusit Thani Group, and other local firms. We also have several former Bangkok students who have pursued business careers in the United States at Apple, Walmart, Berkshire Hathaway, CVS Health, and other Fortune 500 companies. The fields in which our former Bangkok students work are as diverse as they are. We keep track of our students, and we can count university professors, independent businessmen, political consultants, medical researchers, commodities traders, professional artists, and other professions too numerous to name among our satisfied clients.

The accent reduction section is very effective.
- Nan (This student took our Columbia Business School Communication and Culture boot camp.)
Bangkok
Primary Course Venue:

Sheraton Grande Sukhumvit
250 Sukhumvit Road
Bangkok 10110, Thailand

Phone: +66-6-0003-5529

NOTE: We do NOT typically have staff at the venue, so email us before visiting the venue.
Meet a Bangkok TOEFL Tutor: Heinrich Z.
Heinrich Z. was born and raised in a small town near Munich, Germany. He is a graduate of the University of Stuttgart and the University of Delaware, with bachelor's and master's degrees in engineering. Heinrich worked in the American automotive industry for several years before moving to Bangkok to launch an automotive technology start-up. Heinrich's wife, who is a teacher at a Bangkok school, got him interested in working as an educator in his spare time. He started out by teaching English courses, and became a Manhattan Review TOEFL tutor through our company's connections with his wife's school.
Heinrich's TOEFL students praise his scientific approach to tutoring. He applies his training in engineering to design the best course of study for each individual client. "I was of course impressed with Heinrich's own high TOEFL scores and graduate degree from an American university," according to one comment on his student evaluations. "But his macro-level view of my needs as a TOEFL test-taker is really what made him special. My final TOEFL scores were much higher than I expected." Aside from his activities as an engineer, businessman, and educator, Heinrich enjoys restoring antique cars and motorcycles. He can often be seen riding around Bangkok on a vintage Harley-Davidson.
As Seen In