Best TOEFL Test Prep Tutoring in Bangkok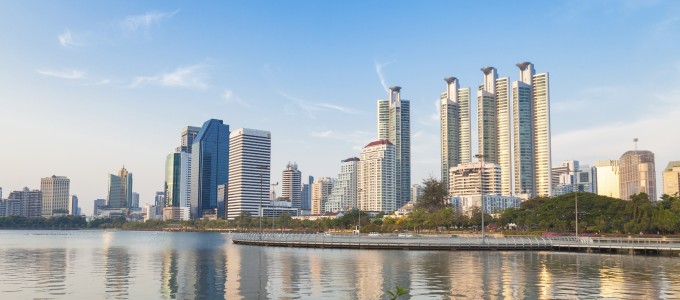 Manhattan Review has been successfully preparing international students for the Test of English as a Foreign Language (TEOFL) in Bangkok and other cities around the world since 1999. Our TOEFL tutors are natives of countries in Europe, Asia, Latin America, and elsewhere who have excelled on the TOEFL themselves and graduated from the best universities in the United States, Canada, England, and virtually every country in the English-speaking world. They offer highly effective service that is custom tailored to the goals, needs, and convenience of each individual student, which produces maximum score improvement within a reasonable amount of time and effort.
The TOEFL evaluates test-takers' abilities in the areas of writing, listening, speaking, and understanding English. Scores for the internet-based test range from 0 to 30 on each section, for a total score of 0 to 120. A total score between 60 and 93 is considered "competent," and the 94-109 range is considered "good." 110-117 is classified as "very good," while anything above that is designated as "expert." The median TOEFL score requirement for universities in the United States is about 80, but very few institutions demand a score above 100, and several will accept scores in the 60s and 70s. Manhattan Review's TOEFL tutors will analyze data from a variety of sources to arrive at your target score. We will then create a tutoring program that utilizes our knowledge of teaching strategies, preparation exercises, and your individual needs as a student to craft a tutoring plan that produces the results necessary for acceptance into whichever university you wish to attend.
Manhattan Review's TOEFL clients have been accepted to Oxford University, the London School of Economics, the University of Pennsylvania's Wharton School, Johns Hopkins University, Georgetown University, and several other top schools. Our former Bangkok clients now have rewarding and lucrative careers at local businesses such as PTT Global Chemical, Rose Media and Entertainment, and Kantana Group. We've also helped our Bangkok students achieve their goals of working for Fortune 500 companies, including Johnson & Johnson, American Airlines Group, Honeywell International, and Goldman Sachs Group. No matter which field you intend to study or which profession you choose, Manhattan Review's TOEFL private tutoring and TOEFL prep classes will help get you on your way to the career you want.
TOEFL Private Tutoring
Hours package 12 to 48 hours, Personalized 1-on-1 Tutoring, In Person or Live Online
TOEFL Private Course
12 hours in total, Personalized 1-on-1 Course, In Person or Live Online

My classes with Mr. Scheno were perfect to prepare for the actual TOEFL test – I can give my total recommendation for attending his classes. During our first appopintment he analyzed my strengths and weaknesses to set up my personal course syllabus. These customized classes improved my writing, speaking, reading and listening abilities a lot and raised my confidence to succeed the TOEFL test, which I in fact succeeded. At any time, Mr. Scheno responded rapidly and accurately to my questions and was available even beyond classes. It was a great and successfull experience to work with Mr. Scheno. Many thanks!
- Mirco (This student took TOEFL tutoring)
Bangkok
Primary Course Venue:

Sheraton Grande Sukhumvit
250 Sukhumvit Road
Bangkok 10110, Thailand

Phone: +66-6-0003-5529

NOTE: We do NOT typically have staff at the venue, so email us before visiting the venue.
Meet a Bangkok TOEFL Tutor: Natalia C.
Natalia C. is a professional graphic artist originally from Florence, Italy. She holds a BFA from the Rhode Island School of Design and an MFA from Queens College of the City University of New York. Her artistic pursuits and teaching career have taken her all over the world, with stops in London, Paris, Melbourne, and Hong Kong preceding her current stay in Bangkok. She has taught courses in art history and graphic design at a number of universities and tutored for Manhattan Review in several cities. As a tutor, she specializes in TOEFL prep, but she has also helped international students prepare for the SAT and GRE.
Of all the positive comments that she has received from her students, Natalia is most proud of the fact that her students consistently say that they enjoy her tutoring sessions. "I was assuming that my TOEFL prep sessions would be necessary but boring," said one former student. "Natalia showed me how teaching itself is an art form, and I actually found myself looking forward to my lessons with her." Natalia spends much of her free time listening to American jazz, and her favorites are John Coltrane, Miles Davis, and Ornette Coleman. She also became a baseball fan while in the United States, and she roots for the New York Yankees.
As Seen In