Best GRE Test Prep Courses in Bangkok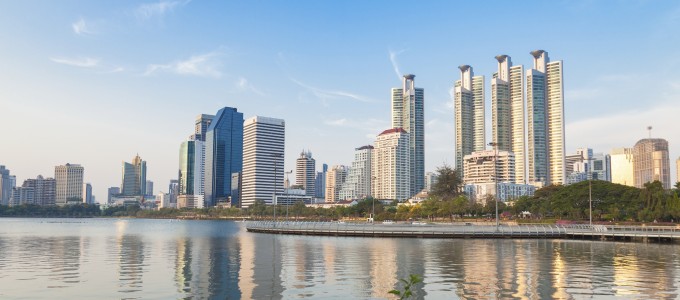 Manhattan Review offers the most effective prep classes for the Graduate Record Examination (GRE) available in Bangkok. Our courses can be taken both on-site and online, and we also specialize in private GRE tutoring and practice tests. Our Bangkok students have been accepted into the best universities in the United States, including Harvard, Yale, Princeton, the University of Chicago, and Stanford. We've also taught people who have studied at highly selective universities worldwide, such as Oxford University, the London School of Economics, and the Asian Institute of Technology in Thailand. Admission into universities of this caliber is obviously competitive, with only the strongest applications having a realistic chance of success. Manhattan Review's GRE prep classes will ensure that you impress admissions committees with your outstanding performance on this crucial admissions requirement.
The GRE is a basic requirement for applicants to master's and doctoral programs in the liberal arts and in other disciplines. Each year, the test is administered to more than 655,000 people in over 160 countries. The skills evaluated on the General Test include analytical writing, quantitative reasoning, and verbal reasoning, and scoring for the most recent version, introduced in 2011, ranges from 0 to 6 for the first section and from 130 to 170 in the latter two categories. Successful test-takers must be able to demonstrate a variety of skills, from reading comprehension and vocabulary to problem solving and data interpretation. Manhattan Review's GRE prep courses will help you develop all of the abilities relevant to the test and ensure that your scores meet or exceed the median level for your targeted graduate program.
Manhattan Review's GRE clients in Bangkok have pursued careers in business, government, scientific research, education, the arts, and many other areas. Our former students work for Amazon.com, Proctor & Gamble, and Home Depot, as well as Bangkok companies Phuket Air, Thai Oil, and Bangkok Insurance. Our students have also entered the service of governmental and nongovernmental organizations around the world, in the United States and in several European, Latin American, and Asian countries. We've taught students who have become researchers, professors, artists, and executives. Manhattan Review's widely respected GRE prep courses and private tutoring will help you get started on the career of your choice.

Bill was wonderful! He was most helpful very thorough and patient. He explained everything multiple ways and answered all our questions. I appreciated the solutions work he did.
- Linnet (This student did GRE tutoring)
Bangkok
Primary Course Venue:

Sheraton Grande Sukhumvit
250 Sukhumvit Road
Bangkok 10110, Thailand

Phone: +66-6-0003-5529

NOTE: We do NOT typically have staff at the venue, so email us before visiting the venue.
Meet a Bangkok GRE Tutor: Carolyn R.
Carolyn R. was born in Bangkok to American parents serving in the military. She grew up in Alexandria, Virginia, where she played tennis and field hockey in high school. She completed a BA in communications with a minor in Russian history at the University of Maryland, and worked as a professional photographer after graduation. When she applied to a graduate history program at the University of Virginia, her high GRE scores were a major factor in her acceptance. While a graduate student, she served as a teaching assistant and GRE prep tutor. Upon completion of her master's degree, she moved back to the city of her birth to further refine her skills as a photographer.
Manhattan Review recruiters met Carolyn at an exhibit of her work in a Bangkok art space, and we were taken by her creativity, educational credentials, and tutoring background. We convinced her to resume her work as a GRE prep tutor, and her students have consistently praised her effectiveness, dedication, and eclectic personality. "I wanted to pursue a graduate degree in anthropology at the University of Pennsylvania, but I just didn't have the necessary quantitative scores," remembered one former student. "With Carolyn's help, I got past my issues and got accepted." Carolyn spends her free time taking her dog to the park, and she also enjoys local music, hiking, and Russian literature.