Best GRE Test Prep Tutoring in Bangkok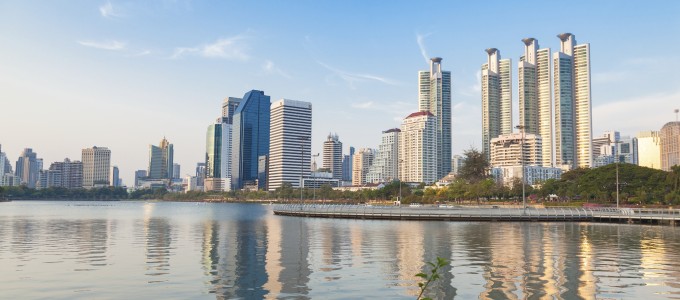 Manhattan Review's one-on-one Graduate Record Examination (GRE) tutoring in Bangkok has helped numerous students gain admission into graduate programs in the United States, Europe, Asia, and almost everywhere else that the test is required. Our tutors develop individualized teaching plans for each client that consider several factors, such as target school, field of study, learning style, and academic strengths and weaknesses. This personalized approach allows us to produce outstanding results while streamlining the test preparation process to fall within a reasonable range of time and effort.
Manhattan Review's targeted instruction makes use of our extensive research on admissions data to prepare our clients for the requirements at their chosen schools. Some schools place greater weight on the GRE than others, and we consider all aspects of our students' background in order to determine the GRE scores that are necessary in each specific case. Applicants to Cornell University, for example, where the graduate acceptance rate is approximately one in five, generally score in the 80th percentile or above in each of the test's three areas (verbal reasoning, quantitative reasoning, and analytical writing). Arizona State University, which accepts more than half of its graduate applicants, has similar general numbers for quantitative reasoning and analytical writing, but an average verbal reasoning score in the 60th percentile. The definition of a "good" GRE score also varies considerably by discipline, with the sciences placing more emphasis on the quantitative score and the liberal arts more concerned with verbal ability. Manhattan Review's extensive analysis of each client's individual situation ensures that our tutors have all the information they need in order to make the most of their tutoring sessions.
Manhattan Review's unique tutoring methods have helped our Bangkok students meet or exceed the average GRE scores for individual departments at selective universities and gain acceptance into Harvard, Columbia, the University of Pennsylvania, and other top graduate programs around the world. Many of our former GRE clients have completed their degrees and now work in a variety of fields for companies such as Microsoft, MetLife, and Comcast, in addition to Rose Media and Entertainment, Krung Thai Bank, Pace Development, and other prominent Bangkok firms. Other Bangkok GRE clients have entered the public sector in the areas of education, governmental service, and advocacy. Manhattan Review has helped launch careers in almost every profession. Contact us today to get started on achieving your goals!
GRE Private Tutoring
Hours package 12 to 48 hours, Personalized 1-on-1 Tutoring, In Person or Live Online
GRE Private Course
12 hours in total, Personalized 1-on-1 Course, In Person or Live Online

My first class in Manhattan Review was a very good class. George is a very good teacher.
- Hugo (This student took our GRE course.)
Bangkok
Primary Course Venue:

Sheraton Grande Sukhumvit
250 Sukhumvit Road
Bangkok 10110, Thailand

Phone: +66-6-0003-5529

NOTE: We do NOT typically have staff at the venue, so email us before visiting the venue.
Meet a Bangkok GRE Tutor: Paige B.
Paige B. was born and raised in Melbourne, Australia. She holds a BA in cultural studies from the University of Sydney's School of Philosophical and Historical Inquiry and an MA in Folklore from the University of California Berkeley. She spent five years as a private school teacher in her native country while simultaneously tutoring students for Manhattan Review in Melbourne. She moved to Bangkok a few years ago to pursue research for a book on 19th-century Thai culture and help prepare local students for the GRE.
Paige's students cite her expertise on cultural issues as an important element of her effectiveness as an educator. "Paige really makes an effort to understand who the Thai people are, and this makes her teaching connect with her students," said one successful Bangkok applicant to a graduate program at Yale. "She doesn't simply impose her own worldview on her tutoring sessions, and her sensitivity makes all of the tasks associated with GRE prep easier." Paige spends her free time volunteering for an organization devoted to providing clean drinking water to the developing world, touring the local art museums, and studying several different martial arts.