Best LSAT Test Prep Courses and Tutoring in Bangkok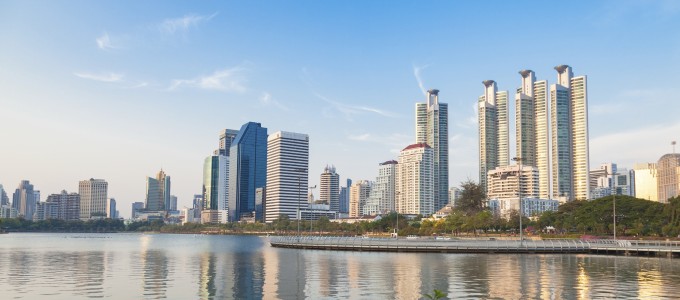 Manhattan Review offers highly effective Law School Admission Test (LSAT) prep courses for students in Bangkok. The LSAT is a core admissions requirement for law schools in the United States, Canada, and other countries. It is a highly complex test that requires a variety of skills. To cite just a few examples, test-takers must be able to find flaws in an argument, infer information from sample passages in several different disciplines, and draw conclusions from given sets of circumstances. The Law School Admissions Council, which administers the LSAT, highly recommends significant advance preparation before attempting the test. Manhattan Review's LSAT prep courses and private tutoring have been producing successful results on the LSAT since 1999. Contact us today for more information on how we can help you ace the test and get accepted to your chosen law school.
The LSAT consists of five multiple-choice sections, one of which is experimental, and an unscored writing sample. Scores range from a high of 180 to a low of 120, and the median score for the approximately 105,000 annual test-takers is about 150. The LSAT is valued by law school admissions committees for its assessment of skills relevant to the legal profession, but median LSAT scores are also a significant factor in law school rankings. The top-ranked law schools at Harvard, Yale, Columbia, Stanford, and the University of Chicago all report median LSAT scores of 170 or above, and in general it can be said that admission to any law school in the top 50 will probably necessitate a score of at least 160. Manhattan Review's LSAT prep courses and private tutoring have helped numerous prospective law students meet these high standards.
Manhattan Review's LSAT clients have graduated from many of the best law schools in the United States and Canada. Our former LSAT students have gone on to practice in the currently lucrative areas of civil litigation, environmental law, bankruptcy law, labor and employment law, and intellectual property law. Some of these JDs now work for top American law firms, while others have started their own practice. All legal careers begin with a strong law school application, including the best possible LSAT scores. Manhattan Review's LSAT prep classes and private tutoring will make the most of your natural abilities and give you the scores you need to get your legal career started in promising fashion.

Hello, I just wanted to let you know that the current class that i am taking is really helping my studies. George has been a great help and I thank you for fitting the class into my busy schedule.
- Simone (This student prepared for the LSAT with us)
Bangkok
Primary Course Venue:

Sheraton Grande Sukhumvit
250 Sukhumvit Road
Bangkok 10110, Thailand

Phone: +66-6-0003-5529

NOTE: We do NOT typically have staff at the venue, so email us before visiting the venue.
Meet a Bangkok LSAT Tutor: Mary Ellen F.
Mary Ellen F. has been providing LSAT tutoring services to Manhattan Review's Bangkok clients since 2010. She is a graduate of Boston College Law School, and also holds an undergraduate degree in geography from Rutgers University. Mary Ellen is a practicing attorney, and is the director of a small legal center in Bangkok that specializes in helping people in Southeast Asia immigrate to the United States. Several of her LSAT tutoring clients have been admitted to law school in the United States, many of whom are now practicing attorneys in cities around the world.
Mary Ellen's students laud her keen sense of their individual needs. "My scores on the LSAT practice test were strong in reading comprehension and logical reasoning, but I needed a good deal of improvement in analytical reasoning to get into an Ivy League law school," said one former student. "Mary Ellen brought her experience as an attorney and knowledge of the test to our tutoring sessions, which brought all of my scores up to a level that was a true reflection of my potential." Mary Ellen has several interests outside of tutoring and the law. She is an amateur jazz pianist and loves to dance, particularly to the popular music of the World War II era. She is also fanatical about physical fitness, and stays in shape by swimming, playing squash, and running marathons.